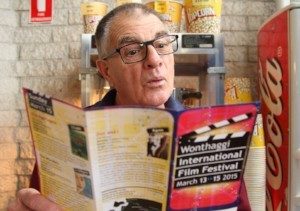 When Hopalong Cassidy rode to the rescue at Hawthorn's Glenferrie Theatre I used to stamp my feet with all the other 10 year olds. When Tarzan plucked Jane from the jaws of death, I cheered. Tom and Jerry was a laugh from first to last. The Saturday matinee was a joyous, tribal ritual and I was enthralled by it. But more than anything, I was fascinated by the flickering beam of light that came out of that square hole high up in the back wall.
I went up there once to ask if I could see inside and was spellbound by what I saw. Two big black carbon arc projectors working their alchemy ─ rods of carbon creating electrical charges that were projected onto a mirror and through an aperture to become …the Cisco Kid!  Mickey Mouse! The Three Stooges! And many more. It took a lot of persistence and a couple of years but finally I was allowed to wind film and make joins – many joins – with a razor blade and film cement. They were the days. I was eventually given a job as an assistant at the Tatler Theatre in Collins Street in the Australia Arcade called the Curzon.
That only lasted a couple of months as I was offered a position with Hoyts as relief assistant doing relief when other assistants went on holidays. This was great grounding, working in suburban theatres all over Melbourne, and working on all different kind of projectors. I could only work the ones that were near railway stations as I was too young to have a licence to drive a car. I was then offered a position at Hoyts Regent. Working in this Theatre was fantastic. I also did time at the Atheneum, Hoyts Esquire, running 70mm, the Plaza also running 70 mm. I had my car licence by this time and was asked to work Drive In relief, once again travelling all over Melbourne relieving the permanent assistants, working in such Locations as Burwood Oakleigh, Bulleen , Broadmeadows, Wantirna Preston and finally ending up at Maribyrnong.
I left Hoyts 1n 1971 and Joined Village Theatres working in the Drive Ins, once again travelling all over Melbourne – Croydon, Sunshine, Clayton, Brooklyn. I became a manager in 1973 and was sent to Seymour Drive in as Manager Operator and was there till I was asked to open Robert Ward's first twin Cinema in 1977 at The Knox Shopping Centre. I was then transferred to Croydon Twin and was there until 1983. Then went to Village Twin Morwell for the next 16 years. In 1996 I opened the Village Morwell 8 Plex. I was then asked to become an Area Manager looking after some of Village sites around Melbourne and also took on looking after Robert Kirby's Cinemas in Sorrento, Rosebud and Warragul. I left Village in 2001 and took over the Wonthaggi Cinema and there I stayed for the next 16 years. I have spent 56 great years in this industry. I have been a committee member of the Cinema Industry Benevolent Fund for over 20 years, and have been a member of the Cinema Pioneers for over 26 years and past Victorian President in 2014.
I would like to thank the committee of the Victorian Branch of the Cinema Pioneers for nominating me for this award and my wife and family for putting up with many years of not being at home at night and weekends, and on special occasions. As people would know, that have been in this industry for many years, it plays havoc with family life.