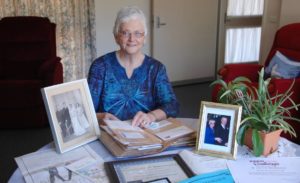 It was October 21, 1952 and Barefoot Contessa staring Ava Gardner and James Mason played in black and white at Theatre 62 on Ronald Road.
A 17-year-old June finished her chores and walked five streets to be met by a six foot two usher in a navy blue suit at the doorway of the theatre.
"The usher would always see me to where I was going and then go up to the projection room," June said.
This night was different, he sat down and introduced himself as John Richmond.
"Would you do the honour of letting me walk you home tonight?" he asked.
June wanted to say yes but her nerves got the better of her and she declined his offer.
A disappointed John made his way up to the projection room where his boss marched him straight back down and told him not to come back until he was walking her home.
"Are you sure you won't change your mind and let me walk you home?" he asked again.
"I was thinking well thank god for that" June laughed. "So I tell everyone I met my husband in the back row of the movies and he kept me there for 58 years."
June met both of her great loves in 1952, her husband John and her love for cinema.
She took a job as an usherette at the Windsor Star Theatre that very same year and five years later in 1957 the pair moved to Port Pirie and opened Port Pirie and Kadina Drive-Ins.
Juggling her responsibilities as a mother to seven children, June worked at the drive-in for many years until the Richmond's moved to Port Augusta in 1970.
June began working at the Port Augusta Drive-Ins and Cinema where she took on a multitude of responsibilities including film-switching, cleaning, fauna park maintenance and advertising.
The family bought the businesses in 1984 and continued to work hard as owners, entrenching themselves in the Port Augusta community.
It wasn't long before June was known around the town to many as 'mum'.
"I had a couple of ladies in Woolworths the other day who were telling me they would never say 'Lets go to the cinema', they would always say 'Let's go and see June'," she said.
While the drive-in closed for good in 1995, the family continued to run Cinema Augusta until 2002 when John retired.
Throughout those years the cinema supported countless charities and fundraising events – raising thousands of dollars for the local hospital, nursing homes and other community groups.
"It was the magic of the movies, there was just something magical about it all – and there is still today," June said.
64 years after her first cinema job June has been recognised as the 2017 South Australian Cinema Pioneer of the Year.
"This award means more to me than a million dollar cross lotto win, I wouldn't even know what to do with a million dollars," She laughed.
"I was walking around here pinching myself the day I got a phone call about it.
"I don't think I'll believe it until I get down there and get my little glass trophy."
June will receive her "little glass trophy" in December at the Kooyong Golf Course in Adelaide where she will be honoured in front of her peers for her dedication to the cinema industry in South Australia.
(Article from The Transcontinental – Port Augusta. Written by Amy Green).
http://www.transcontinental.com.au/story/5002416/spotlight-on-june/?cs=1034