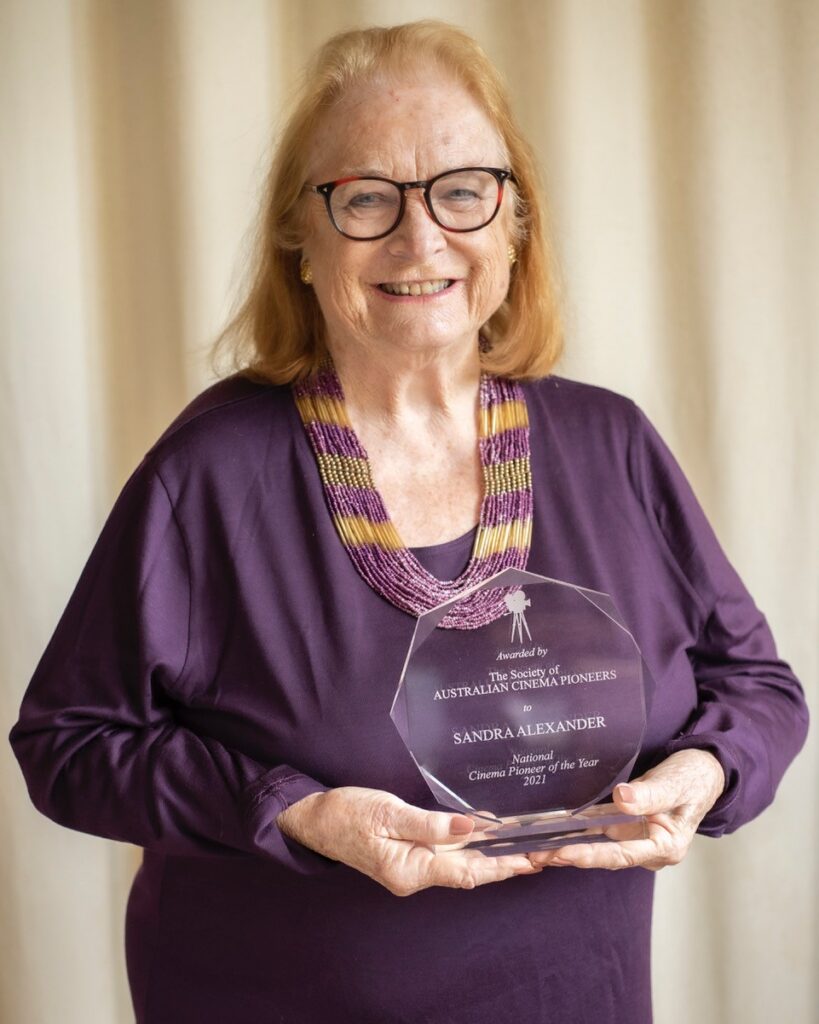 SANDRA ALEXANDER – NATIONAL PIONEER OF THE YEAR 2021
Sandra came to the screen industry from a background as a teacher and academic, where she pioneered a film study and film-making course in NSW high schools and made instructional videos for Macquarie University. She joined the Sydney Filmmakers Co-op and soon became a board member. Australian filmmaking was having its rambunctious revival. The Co-op supported much new talent, especially among women and indigenous filmmakers. With many late nights and lots of De Bortoli flagons, the Co-op screened and distributed early work from many of today's Cinema Pioneers – they will know who they are!
Sandra started in the industry full time in 1983. Her early feature credits were as a production assistant and Art Department Co-ordinator on films including The Year of Living Dangerously, Rebel and Undercover. As production manager she steered feature projects including Frauds, Soft Fruit, the feature documentary Tea With Madame Clos and as a line producer, Liquid Bridge, The Bet and September.
Her association with AFTRS was first as a student, and later as a lecturer there and at other Australian and international training organisations. Throughout her career, Sandra has maintained a commitment to fostering and mentoring emerging talent in the film industry. Her other diverse activities included consulting to the federal and state screen agencies on budgets and incentives. She was co-ordinating editor of 2008 update of The Satchel – Production Management and Film Budgeting, the Australian industry's production bible.
During her four years as National Secretary/Treasurer of Cinema Pioneers the Society achieved significant renewal in administration and communication and supported its members through a time of fire, flood and plague. Even earthquake!
Sandra adds "Membership of Cinema Pioneers has offered me much pleasure, new friends and stimulating experiences. I have been fortunate to work with two fine National Presidents, Tim Read and Russell Anderson, and State presidents. I'd also like to express sincere thanks to Sue Milliken for her advice and support throughout my career and especially with Cinema Pioneers."