STEPHEN LAMB – 2022 WESTERN AUSTRALIAN CINEMA PIONEER OF THE YEAR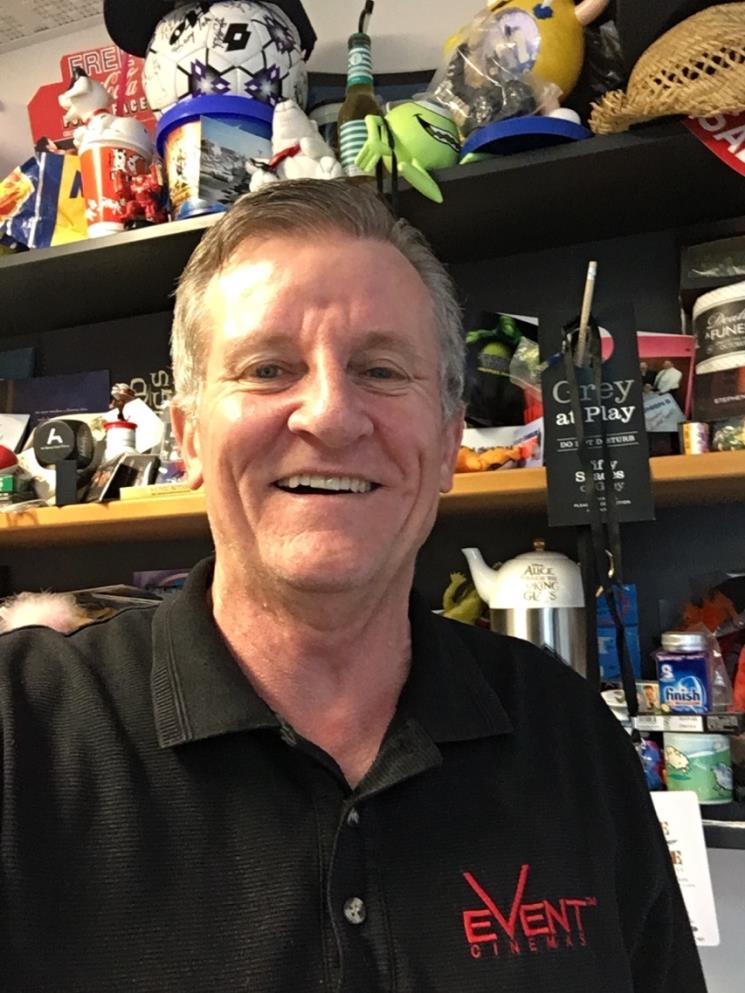 Stephen reminiscences about his career in Exhibition…

"I have vivid memories of first attending cinemas as a child in Melbourne, when we would catch the train into town to watch the latest Disney movie at either the Metro Cinema in Bourke Street or Collins Street.

"I first commenced in the industry in 1978 with Greater Union at the Russell Cinemas in Melbourne, when it originally opened, built on the site of the Barclay Cinema, initially working as a casual usher.

"Transferring to a fulltime position, I was eventually promoted to an assistant manager's role and relocated to the single screen Bercy Cinema in Bourke Street. When that cinema closed in 1983, I transferred to the Forum / Rapallo Cinemas. Without doubt,my biggest highlight at that time was the release of ET: The Extra Terrestrial. It was a phenomenal success, with every session sold out daily in its first 4 weeks (944 seats at the Forum and 624 seats at the Rapallo)!
"In 1990 I transferred to Perth in the role of State Manager. In those days, we operated the Cinecentre and Town Cinemas in the CBD, along with the Metro Cinema and Highway and Metro Drive-ins. The 8-screen Innaloo multiplex was under construction, eventually opening in December that year. It has since had several upgrades and extensions over the years, to its current 16-screens, including 4 very successful Gold Class auditoriums.

"During my time in Perth I have overseen the opening of cinemas at Morley Galleria, Whitford and Joondalup. Sadly, I have also seen several of our locations close, including the Cinecentre, Town Cinema, Metro and Highway Drive-ins and a change of ownership of our Joondalup Cinemas.

"Over the years, my role was extended to include responsibility for our cinemas in SA, NT and Melbourne, where ironically I oversaw the closure of the Russell Cinemas 30 years after I first commenced there with Greater Union. My current my role is Area Manager for WA and SA, looking after our Event, Greater Union and GU Film House brands.

"In addition to my time with Greater Union / Event Cinemas, I have had the privilege of becoming an honorary Director with the Western Australian Motion Picture Benevolent Fund in 1991 and took on the role as the Fund's Secretary in 2013, which I currently hold today.

"I have been married to Sandra for 38 years and we have 2 adult children and 3 grandchildren.

"Away from work, I have been actively involved in junior cricket, both coaching and as Club President of the Kingsley Woodvale Junior Cricket Club for 10 years and have also been a WA Premier League cricket umpire for the past 12-years and am currently umpiring 1st Grade matches.

"I have thoroughly enjoyed every moment of my 44 years in the cinema industry, all of it with Greater Union / Event Cinemas, and have seen many developments from film through to the digital age, watched countless movies released over this time and continue to look forward to the changes that lie ahead."