VICTORIAN BRANCH – DINNER FUNCTION – APRIL 2019
April 3, 2019 @ 6:00 pm

-

10:30 pm

AEDT
Event Navigation
The Victorian committee has strived hard to find an improved venue for our future functions, and we believe we have found this in the popular and well-appointed MANNINGHAM HOTEL,
centrally located with easy Freeway access at Bulleen.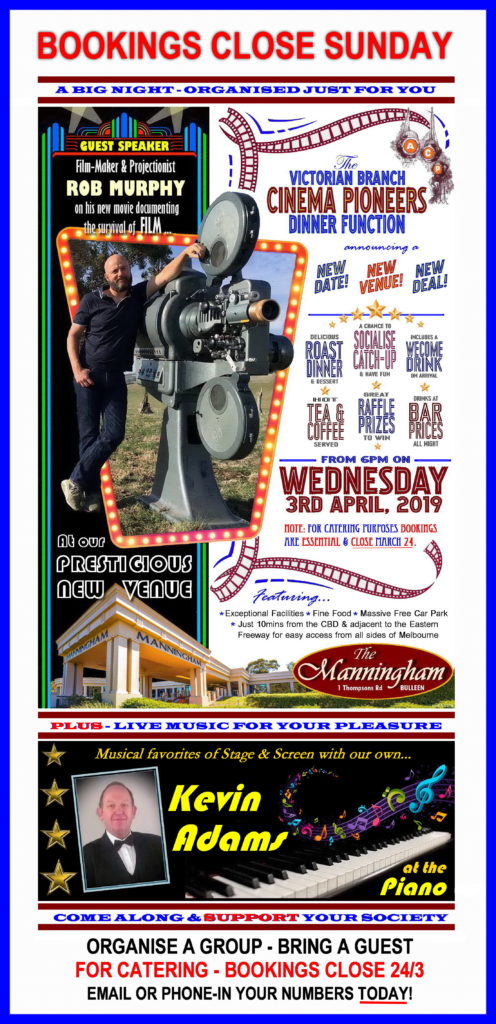 . Now it is extremely important for ALL MEMBERS of our branch, to work together to make the shift a great success – particularly this FIRST function at the new venue.
We are reliant on everyone making the effort to attend, especially this first function for a number of reasons – we need to create a great atmosphere for our members where they can catch up with each other, meet old and new friends, enjoy good food, good company in a relaxing atmosphere. We also need to show our new venue hosts, that we can provide the numbers to make giving us their premium function room worthwhile for all concerned – so that we can continue at this great venue.
We know members have been quite disappointed with some of the issues we have had to deal with in the past at the Tivoli Club. YOU, our members have SPOKEN and your committee has LISTENED.
Starting afresh at a new venue, is a scary proposition, but we feel strongly that members will very much enjoy and appreciate the change that moving to the MANNINGHAM will bring.
But we now need you to trust our choice and show your support with your attendance on April 3.
We not only now have a great venue with good food, but a terrific guest speaker in Bert Murphy – with a foot in both Production and Exhibition, his upcoming feature film will be a topic that will interest both camps. Apart from making films and showing movies at the Sun Theatre in Yarraville, this is what our guest speaker will be talking about…
https://www.youtube.com/watch?v=v1gLRXuZZnI&feature=youtu.be
To help create a relaxing ambience for the function, we will also have some live music provided by our very own Kevin Adams who has hidden his musical talent from us for far too long! Apart from working in cinemas for 40 years, Kevin is actually also an experienced pianist and his style of music is bound to hit a chord with our members as he draws from his extensive repertoire of music from stage and screen… … everything from movie favourites to the haunting strains of Andrew Lloyd Webber. Its music you can sit and relax and enjoy whilst catching up with people or having your meal.
Please do make the effort to support us in this new move – lets ALL "pull out all stops" and make the night a great success – we are counting on each and every one of you!  Remember you are welcome to invite Non-Members to our functions. They might be friends, partners, collegues… maybe industry people who have not achieved membership but would love the chance to socialise and catch up with people at a fun social setting. We now have a large, modern fantastic venue… well run with good food.. drinks at very reasonable prices… theres so much to enjoy… so start inviting and share the fun night out.
Don't forget that due to catering requirements, SEATS must be BOOKED by SUNDAY 24th March – so please do not delay, time is running out fast, and we would love to see you at the function on April 3 as we start a NEW and IMPROVED era for the Victorian Branch of your Society."
(Booking details can be found in the most recent Newsletter).