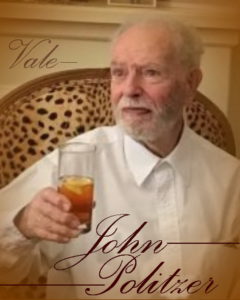 John Politzer, a highly respected exhibitor and distributor who was an influential supporter of Australian films, died on Thursday 8th March 2018 after a long illness, aged 83.
As Greater Union's programming manager from 1979 until 1995, he championed dozens of local films including Sunday, Too Far Away, Caddie, Fran, Kitty and the Bagman, Bliss, Praise and Strictly Ballroom.
Tony Buckley, who produced Caddie, Kitty and the Bagman and Bliss, paid tribute to Johnny P, as he was affectionately known to friends and colleagues, as a "true showman who cared about and loved Australian film."
Margaret Fink, who produced My Brilliant Career and For Love Alone, said: "John was a true ally to me at Greater Union in the 1970s and a sound critic. He became a beloved friend."
Sony Pictures Releasing executive VP Stephen Basil-Jones tells IF, "Johnny P rang me on my very first day as marketing manager of Hoyts Fox Columbia TriStar Films to welcome me and offer his advice any time.
"I have never forgotten that and I often did ask him for advice. He was one of the smartest film people in the business, a gentleman in the truest sense of the word. Sadly missed and a true legend."
Born in Vienna, as a baby he was taken to Shanghai by his father. After emigrating to Australia he started working at 20th Century Fox in the late 1950s, supervising the release of Cleopatra among other classics.
He then moved into distribution at Village Roadshow after being offered a job by the late Greg Coote. He joined Greater Union, the forerunner to Event Cinemas, in 1979, and was instrumental in turning the Pitt Centre into a marquee venue for Australian films.
After retiring from GU in 1995, succeeded by Peter Cody, he served a consultant to Richard Becker's REP and for a number of other producers and distributors who valued his opinions and feedback on their scripts.
Alan Rydge, the chairman of Event Hospitality & Entertainment, was working at Roadshow Films in the early 1970s when he first met Politzer. "I learned a lot of booking skills from John," Rydge tells IF. "What I remember most is his passion for film,  his spirit of enthusiasm and his sense of humour: He was very entertaining."
Rydge credits Politzer with discovering Mel Gibson. Greater Union was involved in the production of Michael Pate's movie Tim in the late 1970s and executives were tossing around names to play the lead, a mentally challenged young man  who is befriended by a much older American woman. "John had seen Mel at NIDA and said he is someone we should consider," he recalled.
Sandra Alexander, who was among many producers whom he mentored, said: "The interest, support and encouragement he offered me as an emerging filmmaker was very welcome, very valuable. A smile and a twinkle from those lively eyes made every setback and obstacle just disappear."
Politzer received the Independent Spirit Award from the Australian Independent Distributors' Association in 2012. Presenting the award to John's close friend, entertainment industry publicist Fiona Nix, at the Australian International Movie Convention, Wallis Cinemas' Bob Parr said: "We're sorry John cannot be here tonight – he is a great champion of Australian cinema.
"John secured screens for Australian films so producers and distributors could be confident of strong, wide releases. His initiative and support for Bliss, in particular, saved the film from obscurity and launched its amazing six month, record-breaking season at the Pitt Centre. His contribution to the Australian industry during that flourishing period cannot be underestimated."
Politzer's partner David Reinhardt predeceased him. A memorial service is being organised.
(Article written by Don Groves for IF.com.au)