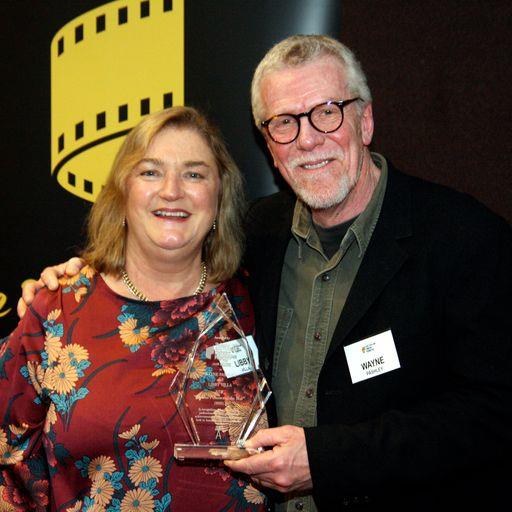 WAYNE PASHLEY and LIBBY VILLA – 2022 NSW CINEMA PIONEERS OF THE YEAR
This year's NSW Cinema Pioneer of the Year recipient is not just one person, but in fact two recipients and the NSW Branch couldn't be prouder to acknowledge their contribution to the Australian film industry.

Wayne Pashley and Libby Villa have worked with Australia's greatest film producers and directors, and, with more than 35 years in the industry, they have accumulated over 150 credits between them. The calibre of their work in the field of sound post production has received the recognition of their peers, both here in Australia and internationally, with 47 award nominations and 32 wins.

Coincidentally, they both started their careers at the Australian Broadcasting Corporation back in the 1980's, working on acclaimed mini-series of that time including Captain James Cook, The Boy in the Bush, Flight into Hell and Great Expectations. These shows were all shot on film and it was during this time they honed their skills, working as assistants, and learning industry techniques and lessons that would stand them in good stead for their long and illustrious careers.
In the late 1980s, they left the ABC and moved into the freelance world of feature film. Six years later, in 1993, they decided to start their own company.

A colleague remarked: "They were just setting up their company in the rooms downstairs from me and I remember thinking it was a bold move. We were all freelancers! I had never thought about doing a quote for a film nor did I think I could deliver the whole thing."

From the company's very beginning, our recipients saw that change was coming to the industry and quickly adapted by purchasing some of the earliest (and very expensive) digital equipment available. Those early years were a tricky balance, especially getting different types and eras of technology to talk to one another. This generation of equipment soon created a mantra of "back it up or weep" and there were many tears shed when hiccups occurred. But our recipients were at the leading edge of the digital transformation and things were moving quickly.

From renting rooms, to renting premises, our recipients moved and expanded three times until they eventually bought their own premises and permanently set up shop. Here they could create the environment in which they worked, control the comfort and technical aspects of that environment, expand and contract as projects dictated, whilst managing the ever-increasing expectations of Australian and international clients.
A colleague remarked: "Their overall understanding of the process is second to none. They both have a unique skill set because they've done every job in the chain many times over and, between the two of them, they form a comprehensive and complete knowledge bank."

And whilst our recipients are highly regarded for their exceptional work, it is their infectious enthusiasm, their passion and creativity, their commitment and dedication, that sees them win the loyalty of crews and clients alike.

They have proudly worked on Peter Weir's Green Card and Fearless, Jane Campion's The Piano and Holy Smoke, George Miller's Babe, Babe 2, Happy Feet and Happy Feet 2, Gillian Armstrong's Oscar & Lucinda and Charlotte Gray, Bill Bennett's Kiss or Kill, In a Savage Land and Facing Fear, Baz Luhrmann's Strictly Ballroom, Australia, The Great Gatsby and Elvis, which has received an AACTA nomination for Best Sound in 2022.

And their proudest moment came in 2016, when Mad Max: Fury Road won the Oscar for Best sound. Congratulations to Wayne and Libby!