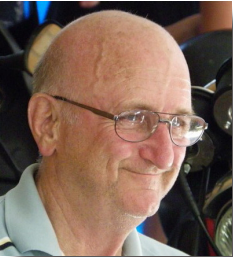 Temporarily tempted out of retirement earlier this year to run 70mm screenings of "The Hateful Eight", Dick's long cinema career first began back in March 1958 when he trained as an Assistant Projectionist at the Plaza Theatre in suburban
Northcote under Jim Mitchell and Peter Pennell.
He soon heard of a vacancy at the Austral Theatre in Collingwood, which was operated by Robert McLeish Theatres. But due to the impact of TV, the Austral closed three weeks after Dick started, so from August 1958, he moved to the Globe Theatre in Richmond (another McLeish theatre) where he worked under Jim Moxon. This was intended to be a 3-month relief shift for Peter McGovern, who was conscripted into Army training. However, when Peter returned the following November, he went to Village Theatres and Dick was offered the job full-time. He remained there for the next three years.
When the Globe reduced its screening to just 3 nights a week, Dick then went to work in the city for the Woodrow Corporation at their Century Newsreel Theatre, under Lionel Degenhardt. This lasted until April 1963, when a vacancy occurred at Toorak DriveIn Theatre (which was privately owned by Sam Aloni, one of the "Big-6" Drive-In groups). Dick worked for several years in the bio box at Toorak Drive-In under Cyril White (who incidentally was there from its opening in 1956 through to closure in 1984).
In October 1964, Dick attained his full Cinematograph Operators Licence and was offered the Chief Projectionist job back in the city at the Embassy Theatre, located beside the My Fair Lady Theatre, which was due to open on December 9, 1964 (Both were later incorporated as Village East End Cinemas).
The opening night saw him on the Bourke Street balcony of the Southern Cross Hotel, spotlighting the beautiful people attending the gala premiere of the blockbuster movie "My Fair Lady".
The job at the Embassy did not work out, so in April 1965, Dick left to take up work at the nearby Metro Bourke Street Theatre, under Bruce Downe, as casual Relief Assistant and casual 2nd Operator for the Metro circuit. Then a vacancy occurred back at the Toorak DriveIn Theatre when Graham Harris transferred to show Cinerama at Hoyts Plaza at the end of December 1966.
So Dick returned to Toorak (now under Hoyts/Village operation) on the September 30,1966 which ultimately proved to be the start of his 26-year tenure with Hoyts Theatres.
In 1971, Dick moved back into the city again, this time to Hoyts Athenaeum Theatre on Collins Street as 2nd Operator under Ted Sharry. Ten in November 1972 a further move to Cinema 5 of Hoyts Midcity Complex as 2nd Operator to Adrian Springbett. He stayed there until January 1976 when he was promoted to Chief Projectionist, and transferred a block away to Cinema 3 of Hoyts Cinema Centre through until May 1992.
From here Dick did some casual relief work for four months until a relief operator was required for Cinema Nova in Carlton. He started there in September 1992, and subsequently worked his way up to the role of Chief Projectionist until retiring in February 2014.
Always available for relief projection shifts, over some 40 years Dick had also worked as a casual for Village, Greater Union and Richard Wynne-York's "Wynfor" Projection Services. He was always busy!
Dick has been a proud member of the Cinema Pioneers for many years and served as President of the Victorian Branch in 2006. In Dick's own words:- "The Cinema game has always been good to me, and over an amazing 56 year period it has allowed me to not only work with a broad variety of equipment and technical advances in different and amazing venues, but also with many, many wonderful people in an industry that I love. I feel the success of my career is owed to 5 individuals in particular who have been my mentors throughout the different stages of my journey: Cyril White, Bruce Downe, Ken Neck Snr, Sid Emmersen and Roy Ramsey. How lucky l have been!"