Russell started in the motion picture industry aged 16 years in January 1965 as an office boy at GUO Wests theatre in Adelaide. Shortly thereafter he was fortunate to be offered a position as Assistant Projectionist at the Majestic Theatre (now closed) in King William Street.
When the opportunity arose to take a position as Despatch Clerk at United Artists he accepted ultimately rising through the ranks to become Booker at UA. He would remain in the distribution side of the business for the remainder of his 50 year career.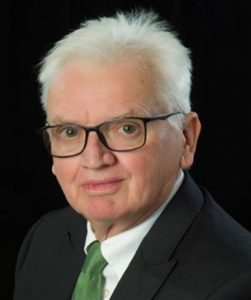 In 1974 on returning from 12 months overseas Russell worked briefly as booker at MGM BEF before joining Columbia Pictures as South Australia Branch Manager that same year. He held this position through the various distribution incarnation of Fox Columbia, Hoyts Fox Columbia Tri Star ultimately being promoted to Southern Area Supervisor which in addition to South Australia encompassed Victoria and Western Australia.
With the closure of the Adelaide Branch he moved to Sydney in 1994 to a position as Fox Columbia Branch Manager for NSW, South Australia. In 1995 he was promoted to National Sales Manager for Fox Columbia. When Fox and Columbia split in 1996 he joined Fox in this role and would finish his career with Fox in 2015 as National Sales Director.
Russell has been involved in some of the most diverse and successful films released in Australia from cult classic 'Rocky Horror Picture Show" and "The Gods Must Be Crazy" to great comedies like the "Full Monty" and "There's Something About Mary". Family films from "Blue Sky" and "DreamWorks" through to specialty titles like "Sideways", "Little Miss Sunshine" and the "Grand Budapest Hotel". Oscar winners including "Gandhi" and "Birdman" and various "Star Wars" titles ,"Alien" and "X-Men" to the out and out box office blockbusters "Titanic" and "Avatar".
Russell was awarded an ICA Lifetime Achievement Award 2015 and in the same year an AIMC Lifetime Achievement Award.