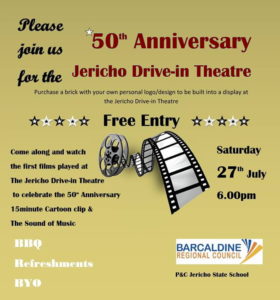 There were celebrations Under the Stars on Saturday 27th July when locals gathered to celebrate the 50th Anniversary of a local institution – The Jericho Drive-In Theatre.
Often dubbed "Australia's smallest Drive-In", the rural Jericho theatre has provision for both cars and patrons on foot with the projection-room flanked by tiered levels of comfortable deck-chair seating.
The old 35mm projection gear was replaced a few years ago with digital machine making it easier to get newer releases, as well as screen alternative programming such as sport telecasts on the big screen.
The 50th Anniversary night was celebrated with food, music and a program that repeated the opening screening 50 years ago with Cartoons and the classic musical "The Sound of Music".
The theatre has become quite a tourist attraction in its own right – located right on the main street of town, perfectly sited for what was, and still is an important focal point for the local community.
We wish Jericho Drive-In a very Happy 50th Birthday indeed – and every success for the next 50 years!