Dear Cinema Pioneers,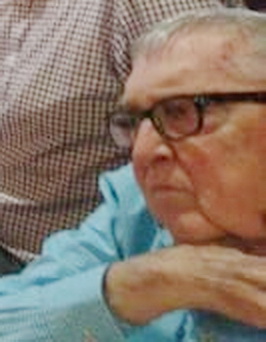 We are very sad to inform you that former Victorian Branch President of the Cinema Pioneers and one of the cinema industry's most respected executives, Graeme Hodges, passed away Monday morning. Graeme was also former National Cinema Pioneer of the year as well as a Victorian Cinema Pioneer of the year and was still a current Victorian branch Committee member.
From early childhood, Graeme had a fascination with attending his local cinema, and even had his backyard cubby house converted to the "Regal Cinema", where he would show his grandfather's old lantern slides to neighbourhood children for one penny.
Graeme commenced his career in the cinema industry at the Waverley Cinema in the Melbourne suburb of East Malvern as a page boy (decked out in a burgundy uniform with brass buttons all down the front) selling Film Chat Magazine. This magazine was a competitor to Hoyts Screen News at that time and was sold in the local Independent chain of Suburban theatres.
After leaving school, in 1954 Graeme was able to gain a position with Hoyts where he worked at the majestic 3253 seat Melbourne Regent Theatre in Collins St and other Hoyts theatres. He worked as a treasurer and in the city theatre group bookings department in the days of the long-running hard ticket shows. Graeme worked in a number of management roles and played a key part of the opening of the Hoyts Cinema Centre in 1969 – the first purpose built cinema complex in Australia – as a part of the management team. Graeme was heavily involved in tours of famous actors and actresses who traveled here for movie premieres and promotional tours including those of Cicely Tyson, Gregory Peck, Joan Collins, Trevor Howard and Dame Anna Neagle.
By the 1970s Graeme was promoted to Hoyts Southern Division General Manager which included responsibility for Hoyts' operations in Victoria, Tasmania, South Australia and Western Australia. The Hoyts circuit in those days consisted of key city theatres, country & suburban hard top theatres and a large circuit of drive-in theatres. He presided over the change from large, single-screen cinemas to the modern Cinema Centre and Midcity complexes, both in Bourke Street Melbourne. Brand new suburban cinemas were constructed and drive-ins were twinned all under Graeme's supervision. The best thing about the new Hoyts Cinema Centre was the ability to hold "Gala Charity Premieres" with the highlight of these being the 1985 World Premiere of "Burke and Wills" in the presence of Prince Charles and Princess Diana, which required incredible protocol, security and organisation and Graeme was heavily involved with this.
Whilst the mid 1980s provided many challenges to the industry, with many cinemas and drive-ins being forced to close, Graeme was charged with heading up a new development in cinema for Australia. The opening of Hoyts 8 Chadstone, Australia's first suburban multiplex cinema in 1986, was a huge risk for the company. Graeme championed the project under the leadership of Leon Fink, who owned Hoyts at that time and led the team in the initial concept and development of the idea, forward planning, design and operations for the revolutionary new era in cinema going. Chadstone introduced many ground-breaking changes to the way cinemas had been built and operated up until that time. The opening, and subsequent huge business levels, proved to be an enormous success and not only put the cinema industry (and Hoyts) back on track, but changed the cinema industry in Australia forever. Hoyts quickly established a number of other key profitable locations around the country leading the expansion of the business over other rivals and led the industry in this new type of cinema development.
In 1987 Graeme became General Manager of Special Projects and then in 1989 he was promoted to the National Operations Manager with Hoyts, which involved spending time in both Sydney, Melbourne, and other locations across the country, as he oversaw all cinema operations including the huge expansion that saw Hoyts open a large number of cinema complexes across the country.
In 1992 after 36 years with the company, Graeme left Hoyts and, along with Roy Ramsay and Greg Cavanagh (also ex-Hoyts executives), formed their own new exhibition company, opening the Cranbourne Cinemas under the Century Cinemas banner and then the next year they opened the Boronia Cinemas. Graeme went back to hands on Cinema operations including being front of house which he loved and where he started from. Their success in this venture eventually led to a buy-out offer from Village Cinemas in 1997 that they accepted and Graeme finally retired for a short time.
Graeme enjoyed a short retirement until he was invited to join Reading Cinemas, establishing their programming and operations divisions and then went on for a short stint to Australian Multiplex Cinemas before finally retiring although he always kept up to date and involved.
Graeme considered it a privilege to have been involved with the Victorian Cinema Industry Benevolent Fund, having served as a Councilor for twenty-seven years and as its President for two years. He was also a Trustee of the Fund for a number of years, and a member of the Investigation and Scholarship Committees. Graeme's other Industry involvement included the Cinematography Exhibitors Association; a Board Member of the Australian Industry Association and a Member of the Board of Film Victoria for two years. He became a member of the Australian Cinema Pioneers in 1981, and served a President of the Victorian Branch in 1997. He considered it a great honour, after a very satisfying and rewarding career, to have been elected as the National "Cinema Pioneer of the Year" in 2000, and as the Victorian Pioneer of the year in 2015.
Graeme was one of the most highly regarded cinema executives in the modern era. His expertise was gained in the cinema industry from the ground up in an era when Hoyts was run by executives such as Earnest Turnbull and George Griffith under Twentieth Century Fox ownership. He was a mentor to many individuals and businesses (including to the Lunar Drive-in Dandenong amongst others). He loved the business and was a keen observer right up until recent times.
Graeme is survived by his wife Clare and children all of who had spent time in the cinemas business. There will be many colleagues and friends who will also miss him dearly. His legacy will not be forgotten due to his enormous contribution to cinema in Australia today.
There are no funeral details available at this time; we'll advise as they come to hand.
Please take a minute of your time to remember Graeme.
Kind regards,
David Kilderry
and
Derek Screen
The Society Of Australian Cinema Pioneers